Busbars – an integrated part of switchboards & power distribution
Electrical distribution is an important part of any society. It provides power to all the electrical appliances in our homes, offices, and factories. One of the key components of electrical distribution is busbars.
The Logstrup Busbar System
The Logstrup Busbar System consists of modular components, which allow unlimited variations and ratings. Three, four and five-wire systems can be designed with ease. Ratings up to 8500A are standard and tested for both temperature rise and short circuit level. The Busbar System is based on a two-bar-per-phase system, both horizontal and vertical, eliminating time-consuming drilling and bending of copper bars. The busbar joints are attached by bolts and nuts of 8.8 quality in connection with special spring washers, type DIN 6796. This ensures a highly efficient and reliable connection throughout the complete lifetime of the assembly, even during variations in operational and thermal conditions. The connections between the horizontal and vertical bars are made by a special busbar connector system that secures a stable and safe connection. The BXC 11649 spacer has been tested to 2900A. We use special fishplate connections to join two-panel sections. The fishplate connections range from 800A up to 8500A and are easily mounted and ensure a reliable connection.
Busbars – the backbone of the electrical supply system
Busbars are the backbone of electrical distribution. They are the final stage of distribution, where power is transferred to the distribution boards. The busbars need to be among the most reliable elements of the distribution system because any failure in them would lead to serious consequences for power supply.
A busbar can be installed anywhere but it is mostly used near an entrance point, to maintain the electrical continuity. It is also used near transformers or other voltage taps or load centers that constitute major power supply sources for an installation.
Busbars are a critical part of an electrical distribution system. They provide a reliable and easy to install solution for the transmission of power.
Busbars come in many types, shapes and sizes to suit a variety of specifications. If you need a modular switchboard solution for your electrical distribution needs, then we can offer you a custom solution including busbars at competitive prices that is tailored to your needs.
We manufacture all-around customizable switchboards
Industry needs are different in nature. So are the needs of different businesses that have different challenges in relation to their demand for electrical power. For instance, some require only moderate amounts of power while others need to distribute megawatts of electric power to meet high demands. That's when switchboards come into play.
Logstrup is a manufacturer of modular switchboards for demanding industries.
Our switchboards have ideal customization options for the low-voltage requirements of any business and have a variety of features that we are able to customize for even more functionality.
Buyers can get an offer by filling out this form on our website or by calling us at +45 4912 7500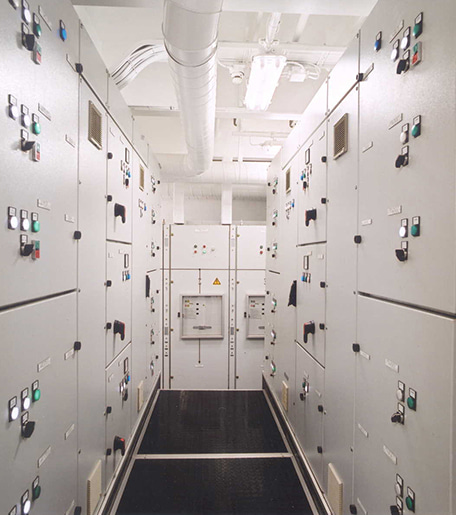 What busbars do Logstrup recommend for power distribution systems?
Busbars are an essential part of electrical distribution systems. They provide cost-effective solutions for high-voltage, low-voltage, and mixed-voltage services.
The busbars in electrical distribution systems are usually made of copper or aluminum. Copper busbars are more suitable for power transmission with higher voltages and currents, while aluminum is less expensive but has lower conductivity.
Busbars are may be installed on top of switchboards or switchgear, but they can also be found inside switchboards or switchgear frames.
At Logstrup we make our own busbars using copper for our modular switchboards.
Configuration of busbars
Systems up to 8500A can be assembled as standard. A 2 bar, 2×2 bar, or 3×2 bar per phase arrangement is used. This allows connections and extensions to be made without drilling or bending of the copper. The Busbar holder components are manufactured from a high-grade polymer which provides high insulation for the copper bar, good mechanical and thermal strength to meet the stress during a short circuit and ability to withstand variations in temperature during service conditions. The Logstrup Busbar System consists of modular components that allow unlimited variations. 3, 4 & 5 wire systems can be created with ease, while the space between phases can be increased to ease connection to large breakers and facilitate connections of multiple cables. The busbar support insulators are manufactured from a high-grade polymer, which can withstand all the mechanical and thermal stresses involved. All polymers used in the system are CFC and halogen-free. The high short circuit level of the busbar system and the mechanical robustness of the enclosures guarantee a reliable, safe, and long-lasting system suitable for even the most demanding environments.
Contact Logstrup for more info on our Switchboard solutions.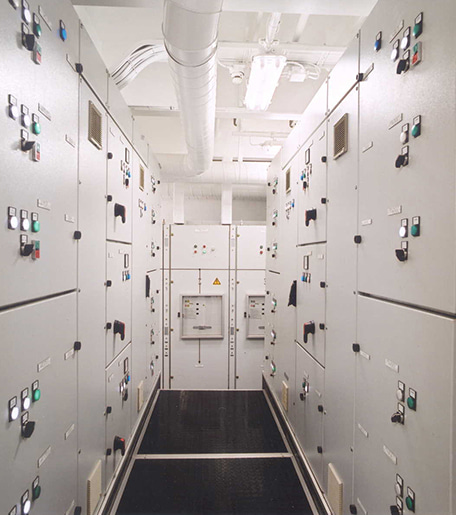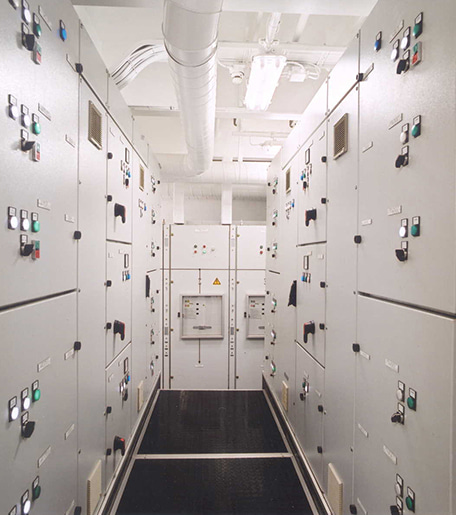 More info around busbars
A busbar is an important component because it collects the power from the generators and distribute it to all other parts of the electrical network.
Busbars can be used in many different ways. They are often used together with a switchboard or with switchgear depending on how they are shaped and what function they serve as well as the initial need.
Busbars are usually made of copper and is in our experience often the best choice of material. Copper is a good conductor which dissipates heat more easily than other metals. It is an effective choice for data center setups, manufacturing as well as naval setups to name a few.
Our specialty at Logstrup is making cutting-edge switchboards for demanding industries and we stand ready to serve you with the best modular solutions. We are based in Denmark, Sweden, UK, Ireland and have a global sales office as well.
In order for us to provide you with the best possible service, please use one of our contact forms with as much information as possible about your requirements and we will get back to you as soon as possible.
How are busbars and circuit breakers related?
Busbars are used with different electrical distribution systems that uses a common bus to connect all of the incoming power from the utility to outgoing circuits. This is a substation that has a large number of feeders and buses, each distributing power to a section or incoming circuits.
Circuit breakers provides protection from short-circuit and overloads. It also limits risk to individual circuits from damage by switching them off when they are overloaded.
Feel free to read about our mcc enclosure cabinets
Contact Logstrup to learn more about our modular enclosures for power distribution