Switchboard solutions
Complete Mounted Switchboards
Logstrup is a switchboard and switchgear supplier.
Based on the original 190mm module, the Logstrup Modular System enables any configuration of Main and Sub Distribution Boards, Motor Control Centres and Control Panels in Fixed or Withdrawable design. Logstrup is independent of component suppliers and has the possibility of cooperating with all internationally recognized component suppliers.
Switchgear configurations
Motor Control Center
The Motor Control Center (or MCC) controls some or all of the electric motors in a central location. The power is distributed through electrical switchboards, transformers or panelboards. The MCC consists of enclosures that contain busbars and switchgear such as circuit breakers, fuses and motor starters.
The Logstrup MCC panels range from 63A up to 8500A with a short circuit level up to 130kA, 1 sec.
To secure your individual needs we offer a wide range of knowledge from our project engineers, who can support you in finding the best technical and economical solution for the project you work on.
Control Panels
Logstrup offers all kind of control and process panels for industrial use.
The Logstrup control panels can either be manufactured in the Logstrup modular system up to IP54 or in customized welded cabinets black steel or stainless steel up to IP65.
Together with recognized international system suppliers; Schneider Electric, ABB, Siemens and Rockwell we can offer a total automation solution with PLC, operator panel and communication interface to the overall control system.
All control panels are built according to international standards e.g. IEC 60439-1/2. We offer full documentation with your control panels. This involves arrangement drawings, part lists, wiring diagrams, programming, operation and maintenance instructions.
As a part of the quality system, all panels are tested according to our detailed test protocol.
Distribution Panels
The Logstrup Distribution panels range from 63A up to 8500A with a short circuit level up to 130kA, 1 sec. This is only one of the types of electrical switchgear Logstrup can help with.
Logstrup offers knowledge from a wide range of industries. Our project engineers are ready to help you move forward with your next project involving distribution panels or any other low voltage switchgear.
Integrated Container Solutions
Logstrup offers various integrated container/E-house solutions – what we call a "Plug and Play Solution" on site. The containers can be equipped with; Distribution panels, control panels, UPS system, air conditions etc.
Containers/E-houses are customized according to the customer's requirements; size, colour, insulation, doors, windows, floor, cable entry.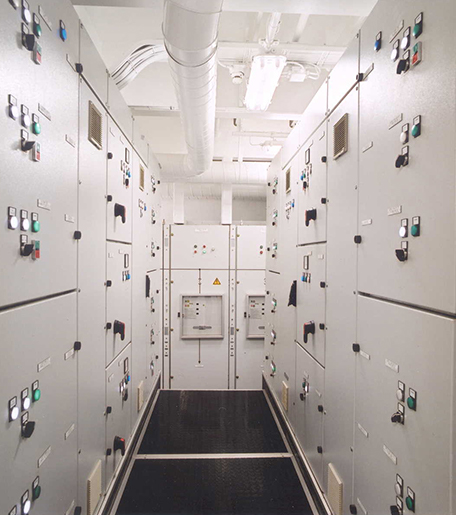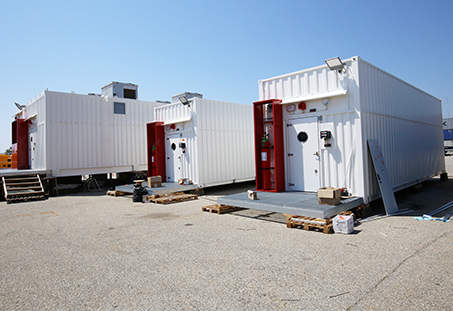 Available with internal separation from Form 1 to Form 4B for an arc fault protection for safety for personnel and operational reliability

Strong and customisable switchgear suitable for all high demanding markets on – and offshore

Fully compliant with IEC 61439-1/2 and multiple international standards
Do you have any questions or concerns regarding an upcoming project? With experience dating back to 1958 and a wide range of successful projects behind us, we are ready to help you move forward. Fill out the form and we will reach out to you.